Hill Climb Racing 2: Awesome Physics-Based PC Driving Game
Hill Climb Racing 2: a testament to physics-based racing games where you do not just race – you analyze. Side-scrolling racer games have come a long way since the days of Excite Bike back in the 80s and evolved into a more digestible approach for casuals and hardcore gamers alike. Since the racing sub-genre inception in the good old flash player days, there have been numerous racers of all different types: classic head-to-head, time trials, drag and even just experimenting with the game's ragdoll physics.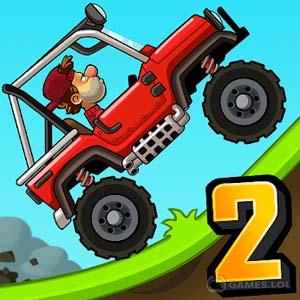 Hill Climb Racing 2
By Fingersoft | 0 downloads

In the early 2010s – during the boom of smartphones – Hill Climb Racing was born. To this day, it has over more than 10 million downloads worldwide and counting. Due to its popularity, the devs of Fingersoft thought it was time to create a sequel that includes more tracks, more cars and more game modes to play. Enter Hill Climb Racing 2 – the best car game filled with shenanigans and strategy!
Classic 2D Platform Racing Redefined
From the get-go, Hill Climb Racing 2 unblocked is direct to the point: you must race as you climb countless hills and win. However, winning can be defined as many things: getting the highest score, going the furthest distance or simply place in a head to head competition. HCR2 does so many things right when it comes to a simple 2D platform racing game with rich content. It may use an old system but even if you play the game today, it still looks pretty good. The best way to play such a modern classic like Hill Climb Racing 2 is the PC.
Effectively Simple Controls
There are only 4 known buttons in Hill Climb Racing 2: accelerate, brakes, tilt and lean: simple but quite tricky to master. How you utilize the controls is up to you. However, the main challenge comes from the roads you take – roads that will truly test how good you are with the controls. If you ever fail the track, you can't blame the button input as they are quite responsive – most probably the most responsive controls ever made for a casual racing game. You can always reposition the button layout if you like.
Fluid Physics Engine
The people at Fingersoft use their own ragdoll physics engine for HCR2. Improving upon the engine from the first game, Hill Climb Racing 2 feels more "realistic" when it comes to the ragdoll physics. This time around, frontflip exploits are gone as well as catapult swings from the first game; resulting in a more strategic gameplay that will test your 2D driving skills.
While the physics does lean more on the realistic side, that does not mean the game's ragdoll engine is more boring. In fact, it still has those cringe-worthy neck breaks, jaw dropping anti-gravity jumps and ridiculous ways to land with style.
Overhauled Gameplay
Thanks to its much-improved physics engine and easy controls, it results into a fast yet tactile gameplay where thinking and speeding are a must. Every new game you play means unpredictable maps and obstacles to dodge as well as random power-ups to collect. The game now also features a much-improved friction system in order to get you driving smoothly without the occasional sudden flips and jumps from slight terrain bumps like the first game!
New Game Modes to Try Out
Hill Climb Racing 2 is full of brand-new game modes that are either improved or implemented from the first game! This time around, you do not just drive as far as you can; you get to choose however you want to win! There's a time trial mode that puts you under pressure and race to the finish line against time. And then, you have ghost mode – a solo game where you must surpass all your previous records in the form of ghosts. Finally, there is the much-awaited PvP mode: a game that lets you compete against 3 other players to vie who reaches the finish line first.
New Vehicles to Unlock
With new game modes, come new vehicles! HCR2 doubles the car collection of all shapes and sizes! As usual, each vehicle has different stats that you can take advantage depending on the terrain you are traversing. Pick a sedan or a sports car to get you up to speed while sacrificing braking and traction. Or, if you like something more heavy-duty, you can always plow through bumpy terrain with a large truck. Feeling quirky? Why not ride in a hotdog van or maybe an ambulance because… why not? All these vehicles can be unlocked just by playing the game – no microtransactions needed.
Forget the gimmicky Hill Climb Racing 2 cheats and hack – those are fake anyway.
Play It on PC
Say goodbye to touchscreen hassle and say hello to keyboard controls and higher resolutions! Hill Climb Racing 2 is now available for free to play on PC.
Game Features
Events - Compete and Win in Weekly Multiplayer Events!
Unlock - Unlock Cars and Choose the Best One for Your Racing Style!
Upgrade - Top the Performance of the Cars You Compete With!
Tune - Choose & Upgrade 14+ Unique Tuning Parts!
Customize - Create Cool Characters and Awesome Cars!
Explore - Race in Various Environments: on Dirt, Asphalt, Snow and more!
Great Graphics - Optimized for high and low resolution devices
Compete - Climb the Leaderboards, Win Races and Become the Best!
Download & Play Hill Climb Racing 2 on PC FREE now!